Tentoonstelling Verplaatst
De tentoonstelling 'Verlangen naar buiten, de tijd verdwijnt' van Peter Gentenaar en Pat Torley is verzet naar volgend jaar,

16 januari t/m 4 april 2021.

Aan het eind van het jaar laten we weten of we een opening houden en hoe die eruit kan zien. We hebben voor nu drie kleine nieuwe sculpturen van Peter opgehangen in de galerie.

Een tipje van de sluier...

Peter Gentenaar, 2020 Rood Boontje 52 x 40 x 40 cm.
Als Corona improvisatie zijn er in tussentijd kunstwerken te zien die ik in de afgelopen jaren en recent heb gemaakt. Een onverwachte solo expositie...
Ook zijn er een aantal mooie papieren producten voor de winkel bij gekomen, zoals Japanse washi memo blocks van Hiroko Takahashi en DIY pakketten van The Geometrist (ontwerp Tomoko Azumi). Voorlopige openingstijden tot de nieuwe maatregelen: donderdag en vrijdag van 13-16 uur, en eerste zaterdag van de maand van 13-16 uur. Ook op afspraak mogelijk.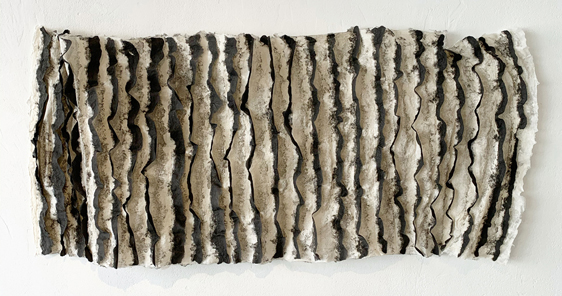 Loes Schepens, 2020 Lost in Tides, 49 x 97 x 10 cm, vlas en katoenpapier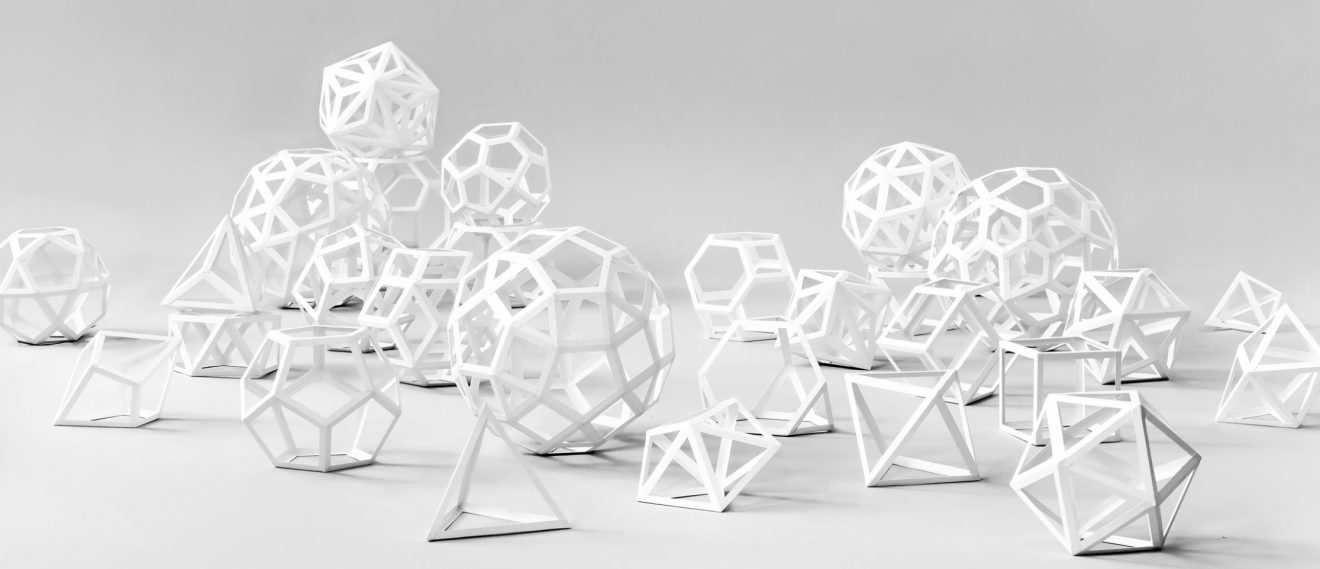 DIY objecten van The Geometrist
Ik ben blij te melden dat ik mede-rentmeester (met 28 professionals, de meesten uit de mode-industrie) ben geworden van een vlasveld bij Ekoboerderij De Lingehof. Samen gaan we het veld inzaaien, wieden, oogsten en tot een bruikbare grondstof verder verwerken. Met het geproduceerde vlas kan ik papieren kunstwerken maken en anderen gaan weer verder met textiel ontwerpen. Ik zal jullie met tijd en wijle op de hoogte houden van dit project. Wil je als vrijwilliger een keer mee naar het veld, stuur me een e-mail!
The Linen Project is een initiatief van ArtEZ Fashion MA Fashion Held in Common en Crafts Council Nederland. Het project wil een dynamische onderzoeks- en productie- omgeving scheppen om kleinschalige lokale vezel en textielproductie te stimuleren en weer economisch levenskrachtig te maken.

Foto's Maaike Gottschal, inzaaien bij De Lingehof
Exhibition Moved
The exhibition 'Desire for the outside, time disappears' by Peter Gentenaar and Pat Torley is postponed to next year, 16 January - 4 April 2021. At the end of the year we will let you know if we will have an opening and what it can look like. For now we have hung three small new sculptures of Peter in the gallery. A couple of teasers are already in de gallery!
Peter Gentenaar, 2020 Little Red Bean 52 x 40 x 40 cm, flax paper
In the meantime, as a Corona improvisation, there are works of art on display that I have made in de past years and recently. A rather unexpected solo exhibition...
Also some nice paper products for the shop have been added, like Japanese washi memo blocks from Hiroko Takahashi and DIY packages from The Geometrist (design Tomoko Azumi). Provisional opening hours to new measures: Thursdays and Fridays from 1:00-4:00 p.m. and first Saturday of the month from 1:00-4:00 p.m. Also by appointment.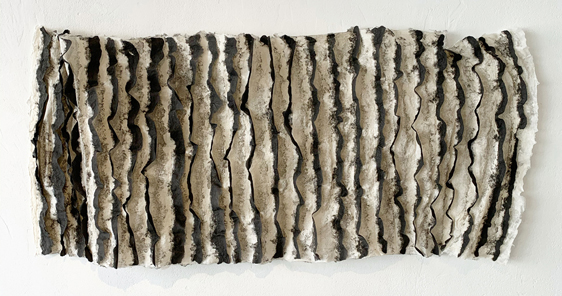 Loes Schepens, 2020 Lost in Tides, 49 x 97 x 10 cm, flax and cotton paper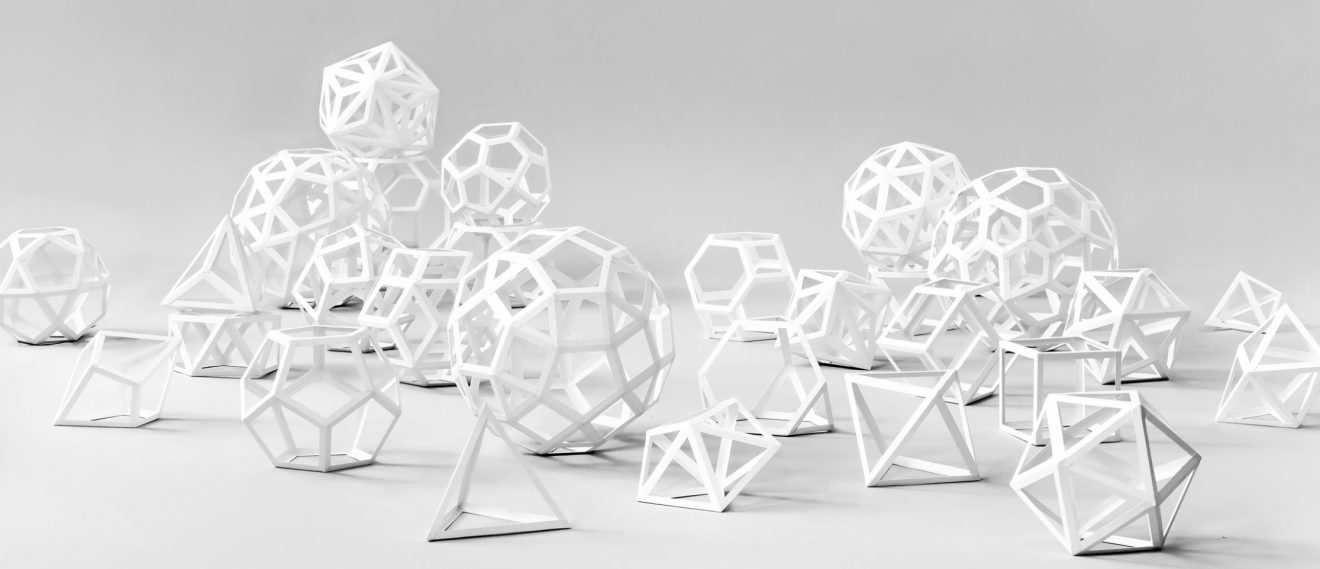 DIY objects from The Geometrist
I am happy to report that I became a shared steward (with 28 professionals, mostly from the fashion industry) of a flax field at organic farm the Lingehof. With this enthusiastic group of people we are going to sow, weed, harvest and further process the field into a usable raw material. With the produced flax I can make paper artworks and some others will continue with textile designs. I will keep you informed about this project. Volunteers are always welcome to lend a hand in the field, so let me know if you are interested, send me an e-mail.
The Linen Project is an initiative of ArtEZ Fashion MA Fashion Held in Common and Crafts Council Netherlands. The project wants to create a dynamic research and production environment to stimulate small-scale local fibre and textile production and make it economically viable again.
Photo's Maaike Gottschal, sow at The Lingehof